Just 4 Kids Raffles
Profile | Management | Beneficiaries | Raffles | Fundraising | Donations | Sponsors | Downloads | Newsletters | Blog
Just4Kids take this opportunity of thanking everyone for participating in our Just4Kids Ultimate Family Hamilton Island Getaway – J4Kcc004.
Our lucky 1st Prize winner is Nyal Hebbard – Ticket No. 3989, of course, we are very envious but there is only one winner.
Our 2nd Prize lucky winner is Russell Price – Ticket 4428
Our 3rd Prize lucky winner is Peter Muir – Ticket No.27
Winners will be contacted directly.
A huge thank you to all who bought online and especially to our willing raffle booksellers, who did a great job in selling tickets, returning the ticket butts and banking the monies.
Our postponed Kimberley Adventure is now scheduled for May 2023, we look forward to having some new entrants register for this great adventure.
This week we are surveying an area in the South Burnett region for a short 3-4 day trip to be held in the last week of September 2022.
Thanks again for your valued support.
Cheers
Just4Kids Team


WIN THE ULTIMATE FAMILY HAMILTON ISLAND GETAWAY
WE NEED YOUR HELP AND SUPPORT WITH THIS FUNDRAISER
Just4Kids' mission is to help make a positive lasting difference in the quality of life of sick or disabled children and youth, their carers, families and those children suffering from long term social disadvantage, particularly those in regional, rural and remote locations.

In addition, our programs are also designed to provide education and support activities and events for parents and carers of sick, disabled or disabled children and those from Indigenous and migrant communities.
We also work with regional community groups and organisations to increase local capability and capacity to support those in need in their local community.
Funds are also used to purchase vital medical and support equipment for children in need and provide social and mental health support activities to isolated youth and communities.
We are headquartered in a facility in West End, Townsville, which houses our regional support vehicle, equipment and supplies and acts as the main base to coordinate youth support and disaster relief activities. Such as those undertaken in loaning generators and food relief in previous locations impacted by cyclones and bushfires.
The facility also houses our North Queensland office and is the base for our dedicated team of volunteers to support the charity's activities.
Just4Kids has no paid staff, relying solely on the dedication of our team of experienced and passionate volunteers, many of whom have been with the organisation for over ten years, highlighting both the importance of volunteers to our activities and the effectiveness of our volunteer retention strategies. Forever passionate.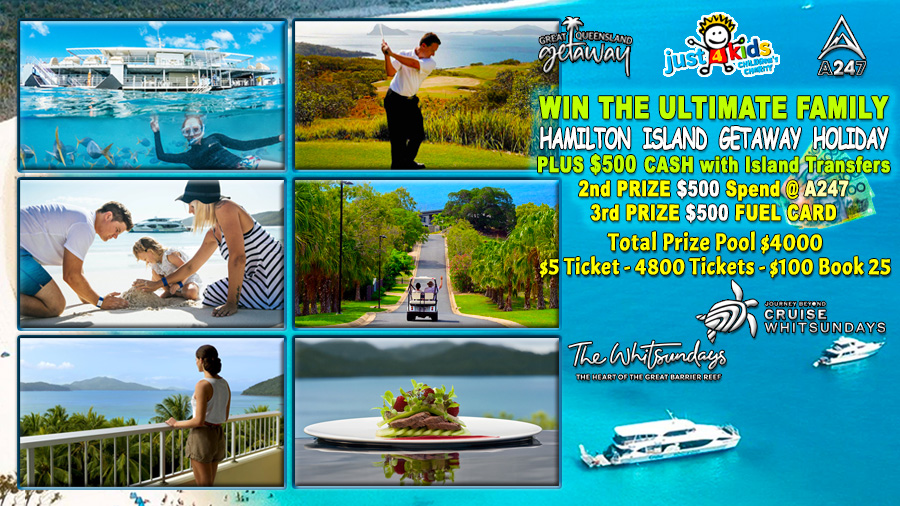 Ultimate Family Hamilton Island Holiday Getaway at Poinciana Apartments on Hamilton Island +$500.00 CASH spending money.
The beautiful Poinciana Apartment features 4 nights and accommodates 4 persons, 2 bedrooms, 2 Queen beds.
The package includes return Island transfers by Cruise Whitsundays (www.cruisewhitsundays.com) to the Hamilton Island terminal and then on to your apartment and the use of the Apartment's private buggy.
VALUED AT $3,000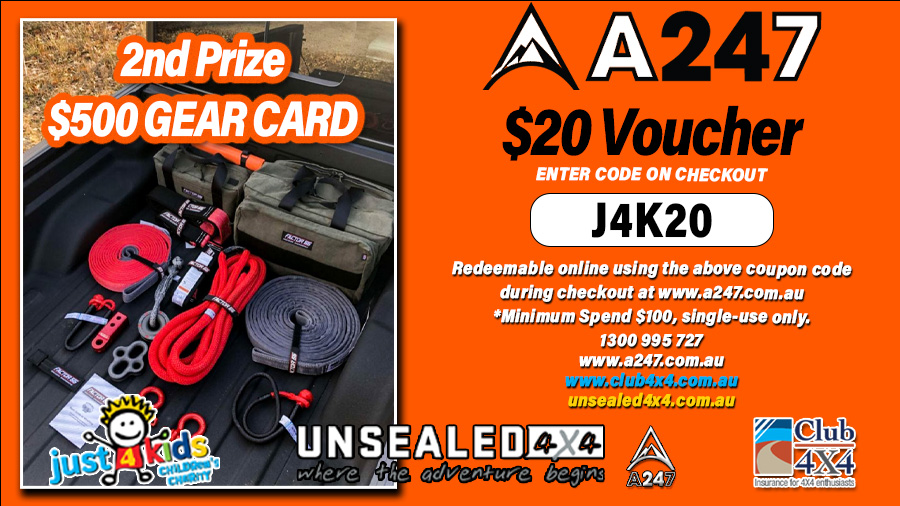 A247 is a Queensland Based Camping and 4x4 Outlet.
At A247 every day is an Adventure, we source quality gear from around the world for people who live life as if every day is an adventure
BONUS - Each ticket entitles you to an A247/J4K $20 voucher
*Minimum Spend $100, one per customer per spend
​
$500 FUEL CARD