Just 4 Kids Motortrail "Red Centre" 2012
Current Events | Register | Holiday with a Difference | Previous Motortrails
Thursday 6th September 2012 - Monday 24th September 2012
Meet and Greet - Goondiwindi
Our event gets off to an early start with the Goondiwindi Cotton Gin Tour at lunch time on Thursday, where you will have the opportunity to meet your fellow travellers in an informal atmosphere. We will be the hosts at a community function that evening at the Gundy Cultural Centre, where you can enjoy a meal and a glass of wine or beer and receive your travel packs as the excitement mounts for departure the next day. Arrive a day or so early into Gundy as it has much to offer.
Day 1 - Goondiwindi to Lightning Ridge
According to Aboriginal legend, a huge wheel of fire fell to earth and sprayed the countryside with brilliant coloured stones. We call them opals. The place abounds with colourful characters, barrels of dreams, opportunities and experiences! The Ridge is famous for the elusive and distinctive Black Opal, which is unique to the area. There is much to experience here, including underground sculptures, bottle houses, astronomy monuments and mine tours. Watch for the coloured Car Door!!
Day 2 - Lightning Ridge to Hungerford
A great drive today from the Ridge via Bourke to the amazing little town of Hungerford and it's historic Hotel. We are now right on the Qld/NSW border . The local pub, the Royal Mail, was originally a staging post for Cobb & Co. and we follow this route through the Currawinya National Park.
Day 3 - Hungerford to Tibooburra
A nice drive today. Nothing too strenuous and an interesting Point of Interest at the Mt Wood Heritage Loop. Take your time and look around this very interesting piece of outback history and our early pioneers.
Day 4 - Tibooburra to Arkaroola via Cameron Corner
Another great day in the Outback. And nothing could be more remote than Cameron Corner. You can straddle 3 states today - NSW, Qld and SA. This is an iconic location and one of the most visited destinations in the outback. It was first visited by Europeans during Sturt's Central Australian Expedition. The intersection is identifiable with a permanent marker, whilst the borders are physically constructed as the wild dog fence. It makes for wonderful photos. The Arkaroola Wilderness Sanctuary - our overnight stop - is also an amazing place with the gorge formations dating back 800 million years. We will be star gazing tonight.
Day 5 - Arkaroola to William Creek
Today we do the run from Arkaroola, via Maree. From Marree to William Creek, we follow the Ghan Heritage Trail which is very interesting with an historic storyline of our early rail pioneers. William Creek is a small community in S.A. but the best place to do a flight over Lake Eyre. This will be an Optional Extra tour for those who want to see Lake Eyre at its best - from above.
The Lake Eyre Basin is a very special part of Australia. It covers one sixth of the continent and holds some of the rarest, least exploited ecosystems on the planet. The Basin is also the cradle of much Indigenous and non-Indigenous culture and history. It is one of the largest internally draining systems and has the fifth largest terminal lake. It is an arid and semi-arid part of the driest inhabited continent and is drained by the most variable, major river systems - the Georgina, Diamantina and Cooper. The Basin is made up of large parts of SA, NT and Qld, along with a small slice of western NSW. After recent heavy floods through the area over the last couple of years the bird and wild life are in abundance and we won't be missing this one, we strongly recommend that you book a flight for this amazing experience.
Day 6 - William Creek to Coober Pedy
A relatively short drive today to Coober Pedy. The town is known as the opal capital of the world because of the quantity of precious opals that are mined there. It is renowned for below ground residences, called "dugouts", due to the scorching daytime heat. The name 'Coober Pedy' comes from the local aboriginal term kupa-piti, which means 'whitemans hole', a waterhole. Dinner tonight will be something special!
Day 7 - Coober Pedy Lay Day
Following breakfast at the Italian Club, the day is your's to do any OPTIONAL EXTRA tours you like. There are many things to see and do in Coober Pedy. We will issue a list of Optional Extra Tours prior to our departure from Gundy. This is your rest day to do what you want. Share a charter a flight over the Painted Desert and Lake Eyre, see the wonders of our changing seasons with the recent wet or visit the underground museums and opal shops and take another one hundred photos. There is so much to see in Coober Pedy, your day will fly by.
Day 8 - Coober Pedy to Mt Dare
A fun dirt drive today along the Track to Oodnadatta for lunch before overnighting at the camping grounds at Mt Dare. It should be a great night at the Mt Dare Pub. Mount Dare is also the most common point that travellers choose to start there West to East Simpson Desert crossing to Birdsville. We will overnight night at Mt Dare and no doubt hear many stories about Desert crossings. An optional circuit to Mt Dare may be available via the famous Dalhousie Springs. Road conditions at the time will decide on our choice to arrive at Mt Dare for our overnight stop.
Day 9 - Mt Dare to Erldunda
More fun in the dirt on the way to Erldunda where we will overnight before heading out to Ayers Rock Resort and Uluru National Park the next morning.
Day 10 - Erldunda to Ayers Rock Resort
Although a bitumen run, we are now heading for the ultimate Australian adventure - a visit to Australia's Red Centre. Voyages Ayers Rock Resort lies at the gateway to the dual World Heritage listed Uluru Kata Tjuta National Park where you will visit Uluru and the Olgas. Voyages Ayers Rock Resort will be your home for the next 2 days, whether you are camping or accommodating in their many hotel options. From here we will visit some of our country's most amazing sites. Make sure you bring and extra SD card for your camera as it is a photographer's paradise.
Day 11 - Ayers Rock Resort - Lay Day
After breakfasting with our chuck wagon, the day is your's. You will have received your pass into the National Park and you can come and go as you please. Discover the traditions of the world's oldest culture, come face to face with some of Australia's unique wildlife and explore the dramatic landscape of one of the worlds greatest natural wonders. Whether you choose to explore on foot or by vehicle, or swaying astride a camel, cruising the desert on a Harley or soaring in a helicopter, a stay at Ayers Rock is like no other. Spiritually and culturally rich, a visit to Uluru-Kata Tjuta National Park is one you will treasure for a life time. Be sure to check out the Ayers Rock Resort website and pre plan and book for your lay day. Dinner that night will be an event to remember - a night under the stars.
Day 12 - Ayers Rock Resort to Kings Creek Station
Ian and Lyn Conway established Kings Creek Station in 1981. The station is close to the magnificent Kings Canyon and is set amongst majestic desert oaks. It is a working cattle/camel station and you can experience the outback either by quad bike, camel or hire the helicopter on site, one of the original Bell Whirlybirds. We will enjoy a function with the Conways in their bush kitchen helping raise funds for the Conway Kids Trust Fund, a project that they are very passionate about, assisting indigenous children to receive a better education.
Day 13 - Kings Creek Station to Glen Helen Gorge Resort
A fun drive today as we head through the West MacDonnell Ranges which part briefly at Glen Helen Gorge, to make way for the Finke River. The ranges are of pacoota sandstone and form steep, broken ridges and it is here that the permanent Finke River waterhole is an important refuge in the hot summer months. You can sit on your chair, glass in hand, and watch the sun set on the mighty wall of sandstone and you will be amazed. A wonderful place for our overnight stop and just 30 metres from the Finke River.
Day 14 - Glen Helen Gorge - Alice Springs
Alice Springs (simply known as "the Alice") is the 2nd largest town in the Northern Territory. It is situated in the geographic centre of Australia. Its original owners, the Arrernte, have lived in the Central Australian desert in and around the Alice for thousands of years. The town straddles the usually dry Todd River on the northern side of the MacDonnell Ranges.
Day 15 - Alice Springs Lay Day
Today is varied, depending on what you would like to do. Our main function, and fundraiser, for the Red Centre Adventure, will come to finalisation today with a Charity Golf Day at the beautiful Alice Springs Golf Club. The golf will involve not only the motor trail entrants who wish to play, but also the local community. Our dinner/function will also be at the Golf Club but not quite where you would expect! A surprise awaits you. The recipients of funds raised today will be donated to the Conway Kids Trust Fund and should be a day/night to remember. If you are not a golfer we have organised a list of "Things to Do", including a cattle station tour, in and around Alice, so your day will be fun too.
Day 16 - Alice Springs to Old Ambalindum Homestead
A beautiful drive today through the East MacDonnell Ranges where we will visit Old Ambalindum Homestead on the Binns Track, a working cattle station which offers a true outback experience. We will overnight at Ambalindum and enjoy a party night with the locals.
Day 17 - Ambalindum - Harts Range. Lay Day
Today we will enjoy Bob and Lois' company as we explore their part of the world in the beautiful Harts Range. We will pack a picnic lunch and head up one of the gorges for a swim before returning to Ambalindum for dinner and an early night.
Day 18 - Ambalindum to Boulia
On the Plenty Highway and you are now on the home run - just follow the min min light. Boulia and the min min light experience awaits you. This mysterious light that follows you from no where. Is it legend or fact? Ask our Motor trail Director who has been chased by the min min light. Just4Kids has been to Boulia before and they are ready to welcome us back with open arms. Your final night dinner and awards presentation will be one to remember.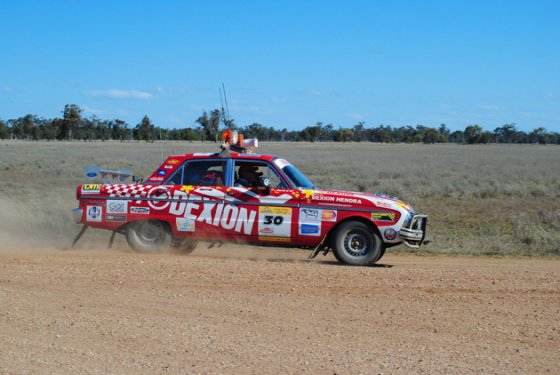 Action on the road to Lightning Ridge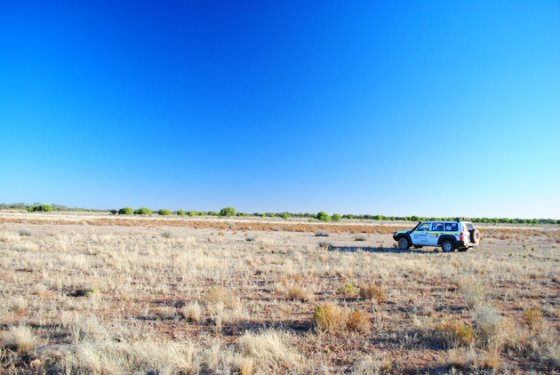 On the road to Hungerford ... And the irish come out to play in Hungerford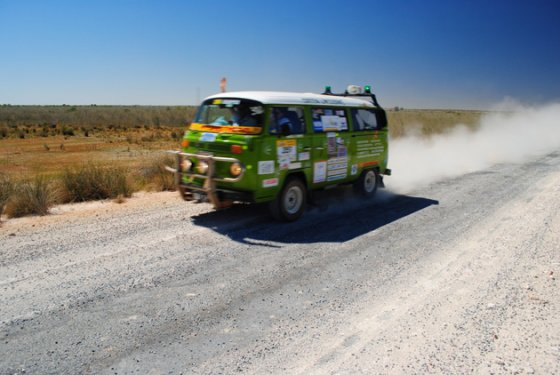 On the road to Cameron's Corner