Just 4 Kids Childrens Charity
Welcome to Just 4 Kids Children's Charity
Just for Kids Inc. is a Queensland based registered charity with a focus on assisting disabled and disadvantaged children.

As a Queensland Childrens Charity operating on a volunteer basis we are extremely thankful for the support and efforts of numerous, generous, experienced volunteers that contribute to helping us achieve our goals.

We also have fantastic Sponsors of our fundraising events and we are proud to be associated with and acknowledge the generous support and commitment of our Sponsors, their management and staff.
Cape York Safari 2013
Tuesday 8th July 2013 - Wednesday 24th July 2013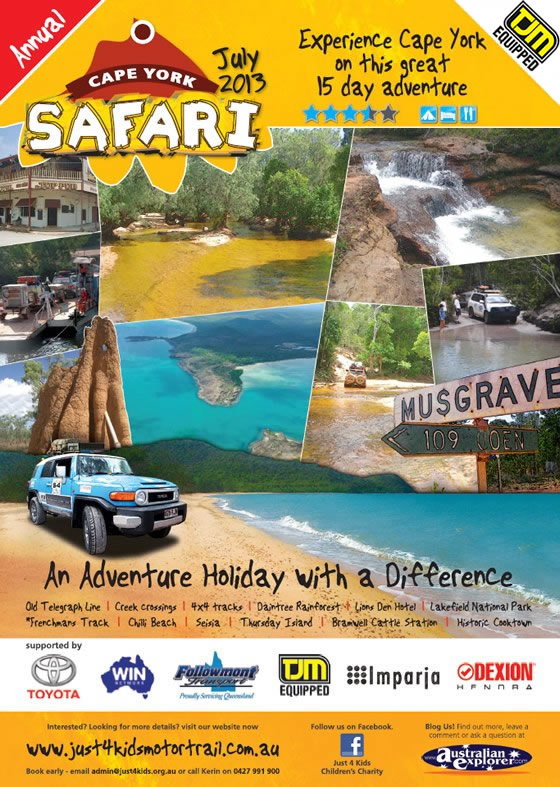 View Promotional Video
15 days of fun and adventure starting in Cardwell and travelling to the Tip via Chilli Beach, Seisia and Thursday Island before concluding at Cooktown.

July 2012 fully booked. Reserve your 2013 Cape York Safari spot now.
Dinosaur Trail 2013
15th September 2012 – 25th September 2013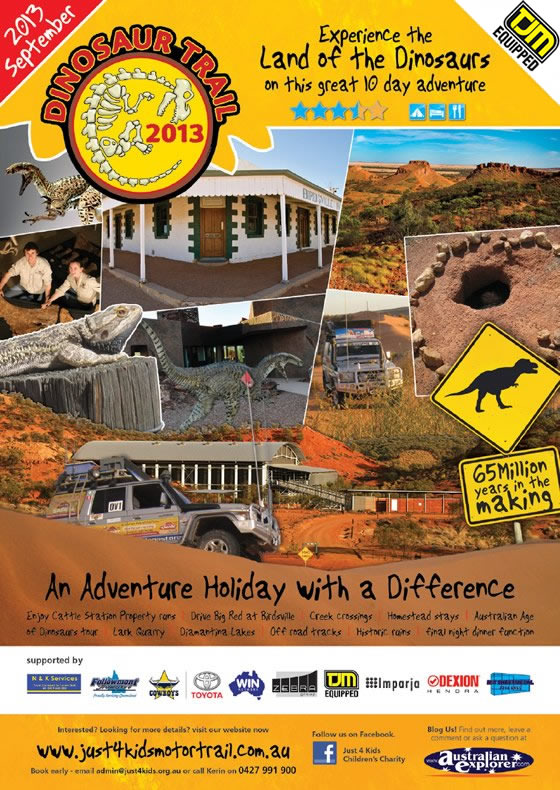 View Promotional Video
"THE JUST4KIDS DINOSAUR MOTOR TRAIL. ROCKHAMPTON – CLERMONT – WINTON – BERDOURIE - BIRDSVILLE – BLACKALL.

15-25TH SEPTEMBER 2013.

FOLLOW IN THE FOOTSTEPS OF THE ANCIENT DINOSAURS WITH LAY DAYS IN WINTON AND BIRDSVILLE. ENJOY A HOMESTEAD STAY; DO A PROPERTY FENCE LINE RUN; DINE ON THE TOP OF BIG RED.

FOR MORE INFORMATION, PLEASE CONTACT KERIN@JUST4KIDSMOTORTRAIL.COM.AU ALL INFORMATION WILL BE AVAILABLE ON WEBSITE SHORTLY."

Latest News